In order to regulate the operation of yacht trading, increase the transparency of the transaction, and safeguard the legitimate rights and interests of all parties to the transaction, HNMTES provides yacht trading authentication services.
Yacht trading authentication means that HNMTES examines and confirms yacht trading activities in accordance with national laws and regulations and the Regulations on the Administration of Ship Transactions, performs ex-ante checking on the accuracy of yacht trading information, and issues the certificate of authentication of yacht transactions.
At the same time, it provides legal and efficient collection and payment transaction guarantee for both parties in the transaction review process. If the subject yacht differs from the description of the transfer contract due to the seller, or if the transfer of ownership of the yacht is not completed according to the contract, this transaction will be suspended and HNMTES will refund the full amount of the purchase price to the buyer. If the contract cannot be successfully performed due to the buyer's failure to make timely payment or intentional delay, HNMTES will promptly suspend the transaction to avoid affecting the normal sale of the yacht.
HNMTES's flow chart of transaction review is as follows: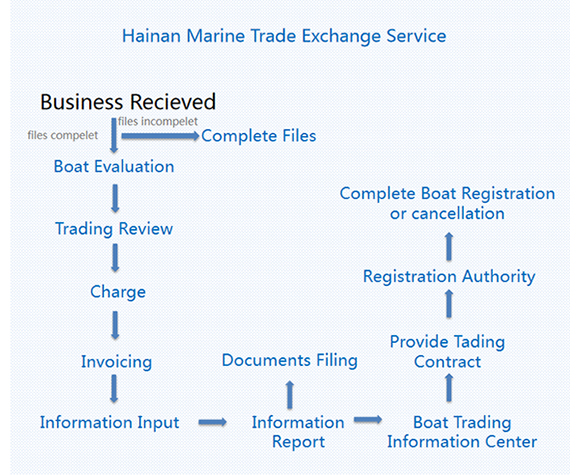 Download relevant documents:
Hainan International Yacht Trade Center's Transaction Review Information List.pdf
Yacht Handover Certificate of Hainan International Yacht Trading Co. Ltd.
Tel:+86-898-88222388/88869896