Release Time:2020-08-21 17:59:10 Article Source:Hainan International Yacht Trading Co., Ltd
Marine Trade Exchange Servcies(hereinafter referred to as "HNMTES"), a platform company of Sanya Central Business District Administration(SCBDA), was inaugurated at conference site of the Cruise&Yacht Industry Innovation Seminar of Hainan FTP which was cosponsored by Hainan Provincial Department of Transportations, Sanya Municipal Government and SCBDA. HNMTES will make use of the advantages of Hainan FTP policy to build a professional yacht trading service institution, and develop into a national yacht trading data platform and the key element cluster of yacht industry chain.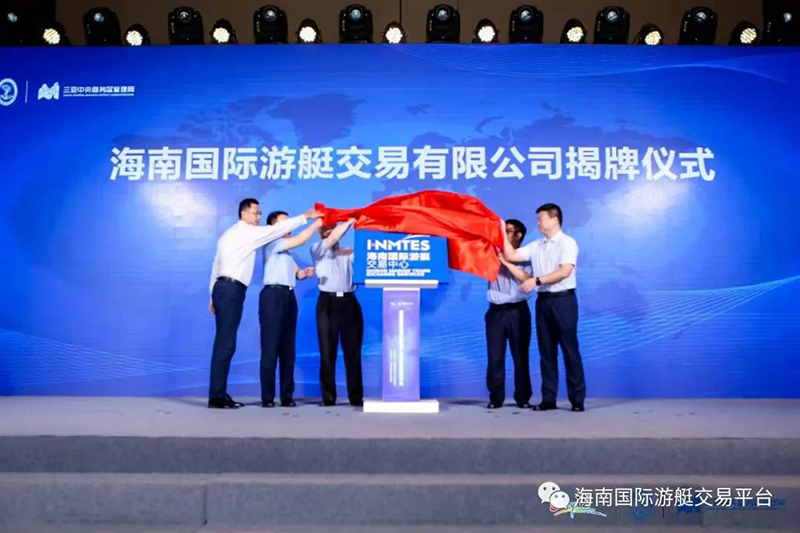 Unveiling ceremony
HNMTES is a wholly-owned platform established by SCBDA, supported by Hainan Provincial Department of Transportation, and actively responding to the spirit of "4.13" speech delivered by President Xi and the call for Hainan FTP construction. Given the FTP policty context, combined with its own advantages and characteristics, it will promote the materialization and intensification of domestic yacht trading venues, promote the agglomeration of industrial elements with perfect yacht trading activities, and innovate specific supporting businesses such as yacht asset trading, financial leasing, yacht insurance, financial guarantee, right of use trading through in-depth development of Internet and financial tools, so as to develop in dislocation with yacht trading institutions at home and abroad, benchmark international yacht market rules, establish a global yacht resource allocation platform, and build an international yacht information center, trading center, and pricing center focusing on Asia Pacific.